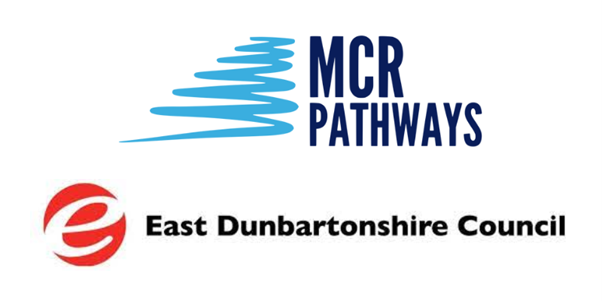 East Dunbartonshire Council and award-winning charity MCR Pathways have joined forces to expand a life-changing mentoring programme throughout the area.
MCR Pathways will help young people in East Dunbartonshire, including those who are care-experienced, to build aspirations and fulfil their potential. The Council's commitment is to support and inspire up to 600 young people over the next three years, encouraging them to remain in school, get the most from their education, and confidently transition to college, university or their chosen career path.
East Dunbartonshire Council is supporting MCR Pathways' expansion in the region and is hoping to attract individuals and businesses to support the scheme, through mentoring and work experience opportunities.
From 11 September 2023, pupils from the area's eight secondary schools – Bearsden Academy, Bishopbriggs Academy, Boclair Academy, Douglas Academy, Kirkintilloch High, Lenzie Academy, St Ninian's High and Turnbull High – are benefiting from volunteer mentors who will listen and provide encouragement.
The programme can be transformational for both mentor and mentee. MCR matches mentors with young people based on their personalities, interests and career aspirations. Recognising that every young person is unique and has different needs, MCR Pathways values mentors from all walks of life who can provide different perspectives and support.
Fay MacRitchie, CEO of MCR Pathways, said, "We are delighted to be working with East Dunbartonshire Council and colleagues from a number of schools in the area.
"Our partnership will bring the MCR programme and mentoring to young people across the region. Volunteering just an hour a week can have a lifetime of impact for a young person. All you need is the ability to listen, and MCR will provide full training and development opportunities."
MCR Pathways is already operational across 18 local authority areas in Scotland where almost 5,000 young people are supported each week through a mixture of group work, mentoring and work-based 'Talent Taster' opportunities. The results speak for themselves, with over 80% of mentored participants moving onto further education, higher education or employment in sharp contrast to 59.8% of care-experienced non-mentored school leavers.
Convener of Education for East Dunbartonshire Council, Councillor Lynda Williamson, said, "East Dunbartonshire Council is excited to be embarking on a partnership with MCR Pathways to develop the mentoring programme in our secondary schools. The programme is a fantastic opportunity for East Dunbartonshire, especially as it offers local residents the chance to collaborate with care-experienced and other young people, to create a positive impact. The central focus lies in nurturing motivation, bolstering confidence, and building resilience.
"I would encourage anyone who wants to become a mentor to get in touch as soon as possible. Your guidance and help can have a lasting and positive impact on the life of a young person."
Further information on the MCR Pathways programme and how to become a mentor is available at www.mcrpathways.org. Volunteers will be fully trained – they just need to give an hour per week to change a life.