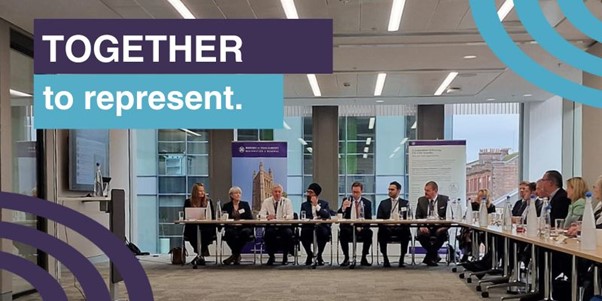 A group of leading businesses and skills experts from across Scotland attended a roundtable event in Glasgow on the 28 September, including Dunbartonshire Chamber of Commerce Board Member Sharon Colvan, to meet the team delivering the Houses of Parliament Restoration and Renewal ('R&R') Programme. They met with the team restoring the Palace of Westminster and to discuss how the complex restoration programme can support jobs and opportunities across Scotland.
The Programme to restore the Palace of Westminster aims to utilise strengths and expertise from across the whole of the UK and to support regional growth. The R&R Delivery Authority co-hosted a second roundtable with Scottish Chambers of Commerce, after a successful business event hosted by Inverness Chamber of Commerce in July, to meet local businesses, small and medium enterprises (SMEs), training providers and local government representatives, to discuss how the Programme can create supply chain and contractual opportunities throughout the nations and regions of the UK, including in the Scottish Lowlands.
Whilst in Scotland, representatives from the Delivery Authority and UK Parliament visited several significant and historic buildings to learn about their restorations with a view to applying relevant learnings to the R&R Programme. They visited Glasgow's School of Art Mackintosh building, to hear about the heritage project to restore the fire damaged building in the heart of the city, before going to The Engine Shed, Historic Environment Scotland's dedicated building conservation centre in Stirling, to learn about building conservation and visit their skills training facility.
Andy Haynes, Commercial Director at the Houses of Parliament R&R Delivery Authority, said:
'The restoration of the Palace of Westminster needs to be a UK-wide effort, using specialist skills and materials from around the whole of the UK to deliver a fit-for-the-future home of democracy. We are looking forward to having discussions with business leaders in Glasgow about the skills needed for the historic restoration of the Palace of Westminster, and the opportunities this will bring to organisations across Scotland.'
Dr Liz Cameron CBE, Chief Executive, Chambers of Commerce, said:
"As an architectural icon for nine hundred years, the restoration and renewal of the Palace of Westminster is a significant multibillion-pound project which will continue to add to the UK's historical, cultural and economic landscape.
"We are pleased to be coordinating a series of business-led events to ensure Scottish businesses have a clear pathway to secure procurement opportunities and contribute our globally recognised engineering and design expertise, specialist crafts, restoration skills and architectural innovation to this immensely important investment project. It also affords us with an exciting opportunity to create and design new apprenticeship training programmes for the future.'
Any businesses interested in supply chain opportunities please get in touch with us using the link below.
Get in touch